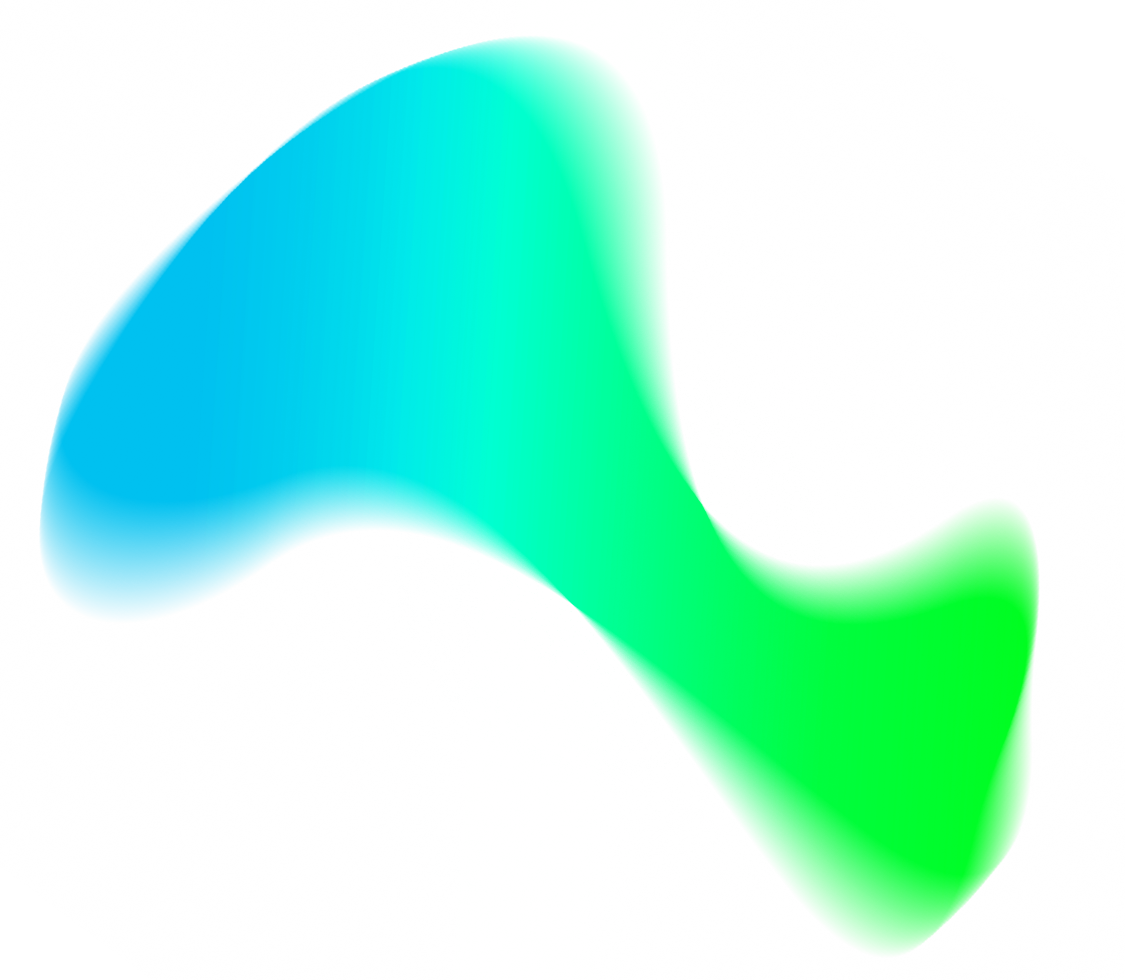 TRUSTWORTHY
CORONA TEST-RESULTS
WITH UBIRCH
Testing is the most powerful measure to fight the virus. But digitized test-results are even more powerful - they can be checked, reused and are more privacy-friendly than paper-results, too. Only the tested person can decide whether he/she wants to present the digital result.
We joined with partners from the healthcare-sector to create the most privacy friendly and secure system for digital lab-results. Only with such a system people can carry their relevant Corona info around with them and use it whenever it makes sense. As these digital results can be verified by 3rd-parties easily there are multiple ways of reusing a test-result. Imagine a guest on a cruise ship is tested and wants to enter a museum during a stop or a restaurant. And as they return to the ship a valid test-result will be scanned and verified again. Other results from rapid-tests, antibody-testing and vaccination can be integrated, too.
VERIFY TEST RESULTS IN AN UNCOMPLICATED WAY

With the Digital Corona Test Certificate, a person's certified test status can be easily checked at any time using a QR code. For example, passengers could have their test result verified directly at the gate before departure. Lufthansa Industry Solutions (LHIND) offers this secure and convenient service. The app with integrated UBIRCH interface can also easily be used in other application areas or industries.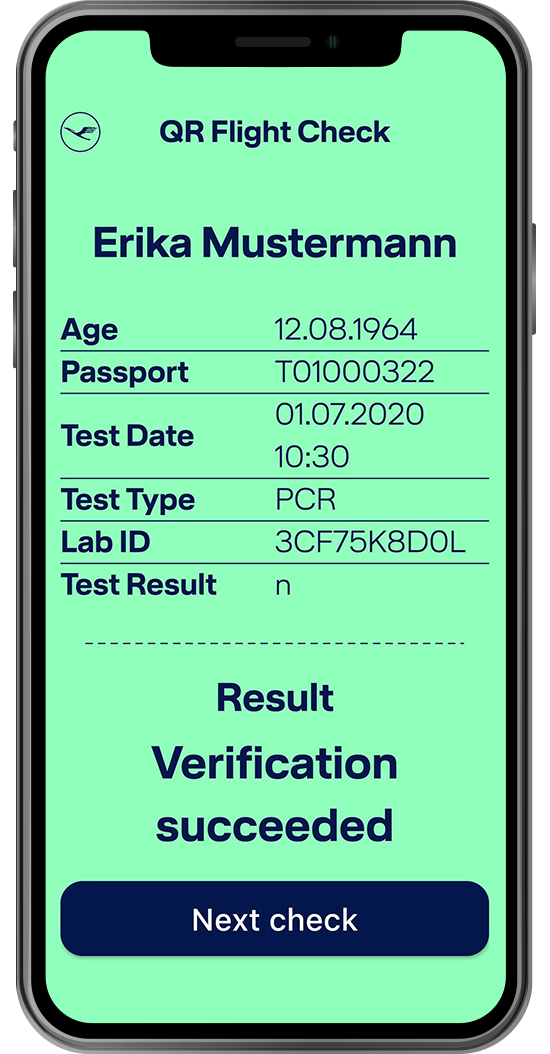 Case Study: Safe, Hassle Free Travel with Centogene and UBIRCH
Centogene offers express testing cites at airports in Frankfurt, Berlin, Hamburg, Düsseldorf and Cologne in Germany and uses the UBIRCH technology. Travellers making an express test at one of the five Centogene Coronavirus testing cite, can chose to get their test results with a digital certificate to ensure safe, hassle-free travel.
For each test, UBIRCH's unique technology automatically creates an anonymous digital fingerprint which is anchored in a Blockchain, certifying the results. Any attempt to tamper with or alter the results in any way are easily detectable and invalidate the certificate. After test sample analysis, the laboratory sends the test results inlcuding a QR-code for verification to the passenger's mobile phone within three hours. This way, an individual's certified SARS-CoV-2 status can easily be verified by airlines at the departure gate, arrival airport, or at any entry point by simply scanning the QR Code and compare the personal details with a valid proof of identity.
The certification process is fully GDPR-compliant meaning that the user is always in control of their personal data and no individually identifiable data is ever revealed in the Blockchain.
Secure your event

Customer events suffer particularly from the Corona crisis. However, the conditions under which such events can take place are increasingly being explored again - even if no vaccine is yet available nationwide. We believe that digital solution modules can play an important role in this, including digitalized test results, contact tracing, check-in processes and verification of test results at the entrance. Together with our partners, we have put together a well-coordinated and market-tested portfolio of solutions to help you get your event back on track.

Contact us!
Make work safe

Many employers are concerned about the health of their employees in the Corona crisis. What can work look like in times of the pandemic, as long as no vaccine is widely available. New technologies, such as the digital Corona test certificate from Ubirch, can make workplaces safer in the long term, for companies and employees. We believe that digital solution modules can play an important role in this, digitized test results, contact tracing, check-in processes and verification of test results before the start of the working day.

Contact us!
Digitize COVID-19 Tests

Laboratories and test centers play a central role in overcoming the corona crisis. They provide valid statements about the state of health of tested people on the basis of scientifically proven results of corona tests. However, the process of a corona test is characterized by organizational effort and the use of sensitive data. It starts with the collection of data to identify the person tested and ends with the delivery of the test result.

Contact us

Healex is our partner for the front-end of the solution. The Cologne-based healthcare specialists have an onboarding and patient information system that is ideally suited to register customers for tests in a low-threshold manner (no app installation required) and to collect the master data for the Corona test.
govdigital is a nationwide cooperative for the integration of innovative IT solutions for digital public services in the public sector.
Secure identities are Bundesdruckerei's core competence. The company protects sensitive data, communications and infrastructures with technologies and services "Made in Germany". The solutions are based on the secure identification of citizens, customers, employees and systems in the analog and digital world

CENTOGENE is one of the largest genetic biotech companies worldwide, market leader in Europe and one of the world's leading providers of genetic diagnostic analyses of rare hereditary diseases
Lufthansa Industry Solutions supports companies in the necessary digitalization and automation of their business processes - from medium-sized companies to DAX-listed corporations.

Digital Health Germany e.V. is an association of all participants in the healthcare sector. We intelligently and profitably network service providers, startups, payers, industry and science, thus creating the "Digital Health" ecosystem.
Avenga is a global champion for IT services and digital transformation
recover is your digital contact list. Guests and visitors check in via QR code and transmit their contact data in encrypted form.
Quade is a medical laboratory in Cologne, Germany, that provides laboratory services primarily to outpatient structures.
We work with renowned partners to create a full-stack solution for digital Corona Test-Results. Whether it is onboarding, ID verification, Blockchain Integration or Verification and Linking the solution to existing IT components. Talk to us to find out, how it can work for you.
Download PDF
Are you considering testing your employees, clients or visitors, too? We have good experience with all kinds of testing-scenarios and good partnerships with certified labs. Reach out to us and we will figure out, what we can do.
Contact us
Learn more from
our Partner Avenga:
Contact us
sales@ubirch.com
+49-221-99988248